Your experience will begin with a drive to the South Coast of Nassau. On your way you will see different neighborhoods and the buzzing life of so many Bahamians. We'll end up at Coral Harbor where you get your welcome drinks, a short safety briefing, your helmet & your beach cruisers fitted. Your tour guide will be biking with you along the blue water ways, through shaded pine forests, mangrove wetlands and along the shore line to a secluded beach. On our way we'll make stops and talk about native plants, birds we'll see and learn some of our island history. To have a closer look at these birds binoculars are provided for you. On the beach you'll have a rest, a cool drink, if you like you can cool of right on the beach or at a small stream running into the wetlands, so don't forget to wear a bathing suit and bring a towel.
We know you don't want to leave but now it is time to paddle back to your native Beach Restaurant where you will have about 45 min to walk the beach, have a drink or simply order some lunch before your bus takes you back.
Nassau Bahamas Bicycle Tours
Includes:
1 welcome drink
1 complimentary drink on the beach
1 bottle of water during the ride
Note: min age 12 years
What to bring?
bathing suit
sun block
camera
towel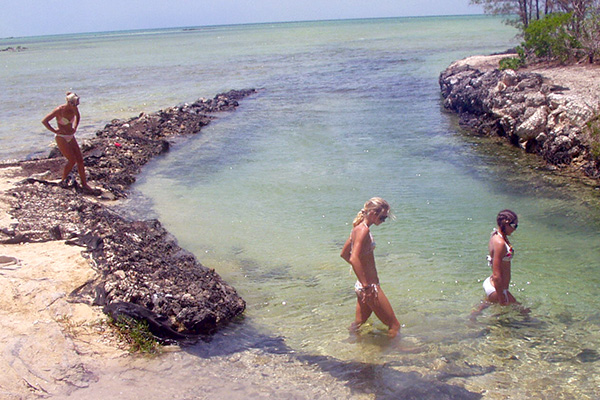 DURATION: 4 1/2 hours
PRICE PER PERSON: ADULT: $ 79.00
CHILDREN AGE 8-12 years $ 59.00
TOUR DAYS: Monday & Thursday
HOTEL PICKUP TIME: 9 am – back at the hotel at 1.30- 2pm
Land & Sea Charters Co., Ltd
P.O. Box N7018,
Nassau, Bahamas
(242) 362-1224/ (242)-327-3277
Email: bicycle_tour_nassau@yahoo.com
Office: lands@batelnet.bs