With over 700 islands to choose from, everybody's dream vacation can come true. From quiet beaches for sun worshippers to just about every water sport imaginable for the more adventurous travelers. We are sure the friendly Bahamas has something for you.
Design your own Adventure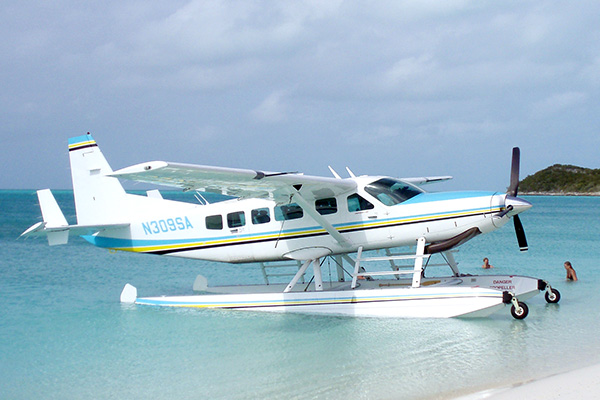 Seabird Air can arrange day trips or longer expeditions to just about any destination in the Bahamas. We work with resorts and specialty operators throughout the Family Islands to offer the ultimate in adventure or luxury. We can drop you on a remote beach or beautiful resort or fly you to your special fishing flats. For the more adventurous, we can offer trips to the uninhabited islands of the Plana or Samana Cays, Hogsty reef or the Inaguas.
Customize a day trip to the island/cays of your choice. Fishermen, snorkelers and divers can plan excursions including stops at several destinations in the family of islands.
Fishing for Adventure
Whether you want to match wits with an elusive bonefish on some sun-drenched flat or match muscle with a marlin on the deep blue sea, the Bahamas is a Mecca for avid fishermen. Seabird Air can to the resort or location of your choice and even arrange your boat or fishing guide just about anywhere you want to be.
Aircraft & Crew
Our planes can take off from land or water. We have amphibious seaplanes based in Nassau, Bahamas. All aircrafts are fully insured and maintained by strict FAA maintenance programs.
Airplanes are: Cessna C-208 Caravan amphibians and Cessna C-206 amphibian. The C-208 propjet aircraft cruises at 180 mph and can carry up to 9 passengers. The C-206 is a 3 passenger aircraft that cruises at 130 mph.
Exclusive Access
Seabird Air offers unparalleled access to private islands, yachts or other remote lodges and resorts.
Guests can be on site or on board literally within minutes of their arrival in The Bahamas. Necessities such as groceries, parts and other supplies can be delivered quickly. We can arrange deliveries on a schedule that meets your requirements or respond on very short notice when something (or someone) has to be there right now.
Picturesque towns, historic landmarks, sailing regattas and friendly islanders all combine to make this island nation a tropical paradise. Some of the best scuba diving and bonefishing areas in the world are here in the Bahamas. The turquoise blue waters and miles of empty beaches invite you to swim, snorkel, scuba or just sit back and relax with a book or sip a cocktail while enjoying the scenery.