A private 9 1/2 acre island with just one beachfront home. It is a private cay without resident staff since they all live on the main island (Long Island) within 2 miles away. We thus have complete privacy/seclusion. Little Deadman's Cay is a historical site.
The first settler was a sailor who shipwrecked and made his way to the cay and built a home there, having married an Indian woman from the main island. The home is built on the site of the original dwelling. The island has a main beach and two small beach coves. In addition, it is within walking distance of an undeveloped peninsula 12 miles long with a continuous beach.
There are three main swimming areas on the private island: beachside, snorkeling side, and on the western end with two Olympic-sized swimming pools made by natural channels. This is a great fishing area. Fly fishing is also very popular in this area as one can wade the flats easily.
Reservations & Rates
The cost for 2 adults for 7 nights is $3,000 rental + $500 caretaker fee.
Children under 12 are $150.
There is a $500 refundable deposit (repeaters $300).
Upon confirmation you will be sent a voucher/letter of introduction advising acknowledging receipt of payment and a fee to be paid upon arrival of $500, for up to 4 guests, for local transportation and caretaker including laundry, airport pick-up, ferrying to the cay, gratuities, etc.
Accommodations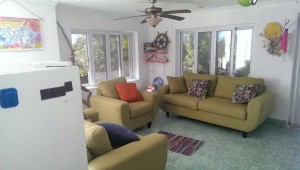 The house has a great room, two bedrooms with double beds and one bedroom with twin/king beds. Indoor complete bathroom with tub, shower, and outdoor shower and additional "john". The kitchen is complete with refrigerator/freezer, stove/oven, and completely equipped with dishes, pots and pans, and even cloth napkins!
Amenities include fireplace, ceiling and portable fans, two patios with sea view from either side. Cell phone, VCR, art and craft supplies for guests' use. Electric pump. Tape/CD deck. Gazebo on the beach with lounges.
3 Bedroom home can accommodate up to 6 adults & 2 children
Fireplace
Two patios
Gazebo on the beach
Fully equipped Kitchen
Spanish tile throughout the house
One full bath with tub and shower indoors
Outside shower
Cell phone
CD/Tape Deck
VCR with a library of tapes
Special Features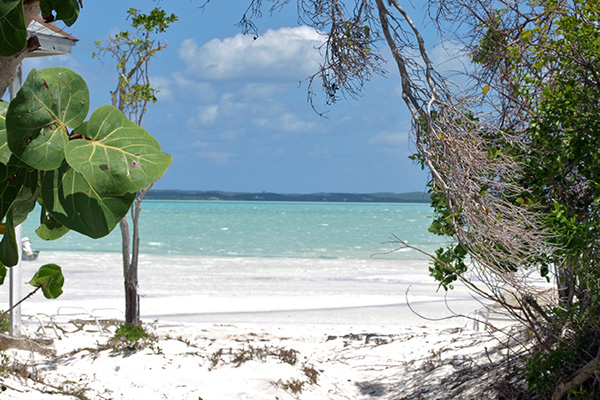 Exclusive use of 9 1/2 acre island
Solar electric and wind generator (thus no noisy generator)
Ceiling/portable fans
Large library of books and games. Art/craft supplies for the creative person
Good snorkeling in the immediate area of island/cay
Sea view from either direction when lounging/eating on the patio
Large beach plus two smaller beaches
12-mile long peninsula with beachfront within walking distance